Routes & Bikes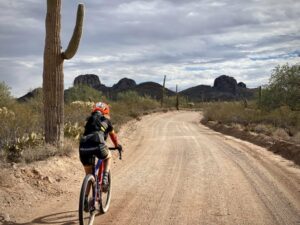 Gravel Girl and Captain O of Team Dirty Freehub have been hunkered down in Tucson the past several months finding more great gravel routes to add to the Dirty Freehub collection. Routes that are five star, premiere, highly curated routes. The kind that makes you think, "Wow, oh wow, that was fun!"
So while the information is fresh in our memory, we thought we would host a webinar that is specifically about riding in Southern Arizona. Let's talk about some of the areas we have put tire to terra. From Portal to Ajo … from Oro Valley to Ruby … from Patagonia to Mt Hopkins … From Vail to Buenos Aires National Wildlife Refuge. And we will talk a bit about what bikes we ride…
You'll also get to know us a little bit better, why we are so obsessed with sharing gravel bike routes (for free no less). And for those of you worried about the border, we will share our experience.
So whether you have lived in Arizona for a million years or you are just thinking about heading south …. Whether you are a seasoned veteran of gravel cycling or just starting out … join us for this event. If anything, you will leave with hankering to get out and ride.
Gravel Girl (aka Linda) and Captain O (aka Kevin) are the co-founders of Dirty Freehub.
At Dirty Freehub, we document, review, and publish great gravel and mixed gravel bike routes. Our goal is that through good stewardship of public lands, collaboration, and sharing of routes, we can have a positive social, environmental, and economic impact in the communities where we ride. For more information: www.dirtyfreehub.org
---
Zoom Meeting Details
This event has already taken place.
Topic: Riding Southern Arizona Gravel
Time: Jan 26, 2021 07:00 PM Arizona
Video Recording
Click here to watch the recorded event.