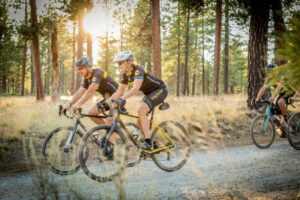 Dirty Freehub on the surface is about sharing great gravel bike routes. Five stars. The ones that make you think, "Wow, now that was too much fun." We provide maps with loads of nitty-gritty details so you can venture out to a place you would have never found, all for FREE. And we want you to learn about the areas you ride — through podcasts and links in the guides — about the history, the art, the culture and the environment. We want you to love where you ride … to inspire you to become volunteers, donors, and advocates for these wonderful places.
Now some people will say that we shouldn't share our routes because they will get crowded. We have a whole different theory: with having lots of great routes, we hope cyclists will be more dispersed, so we have less of an impact on where we ride. We also don't "build routes," we use existing roads and trails. A bit of a double win if you think about it.
Listen to the Story of Dirty Freehub
A sit-down conversation with the founders of Dirty Freehub, Linda and Kevin. Hear how Dirty Freehub started as a homespun website and has grown to an organization of 15+ people. Their mission has expanded from providing great gravel routes to connecting cyclists to where they ride. We also learn what it takes to build great routes, and fund an organization doing all they do.
Examples of Connection
Besides motivating you to ride, Dirty Freehub is also about getting you involved where you ride. We hope our guides teach you about the area, inspire you to take the next step. We hope you become advocates, volunteers, donors, economic drivers.
Here are four examples of what that means:
Building Community
Besides connecting you to the places that you ride, we hope you become part of our Dirty Freehub community. We hope you post comments in the route descriptions. We hope you share our route guides with your friends. You might also contribute your favorite routes or test the routes that we have in development.
Another way to connect to Dirty Freehub is to donate. We need funds to pay for technology, marketing, and legal costs that we incur. We also have some mind-numbing tasks that we would like to outsource, so our time isn't consumed with tasks where we provide less return. And we would like to pay our interns; school is expensive enough without working for free.
Speaking of interns, this is another way we give back to our community. When COVID hit, we were terrified about the impact this would have on our youth. So we now have interns who take on a specific project, one that will really help them build the skills they need to succeed in business. We've decided to share their projects because honestly, we are pleased as punch about their results. We learn as much from them as they do from us. And they keep us inspired ….
Questions?
Any questions about our mission, drop us a note. We would also love to hear from you …. about your favorite route, your not so favorite route, or anything gravel related.