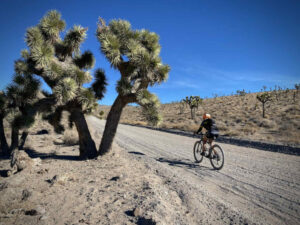 Death Valley: who wouldn't want to ride their bike to see this lovely National Park?
This webinar will showcase the gravel bike routes that Kevin and Linda English (Co-Founders of Dirty Freehub) have put together on their most recent trip to Death Valley.
Skidoo
Billy Lyle
Twenty Mule Team
Par 3 on the Devil
Aguereberry Point
and the signature Titus Canyon
They will talk about each route, gear recommendations, and logistics. These routes range from super rugged, steep, and gnarly to touristy, picture-taking fun.
At the end of their presentation, there will be an open Q&A and an opportunity to suggest your favorite route. One thing is for sure, we are headed back to this area for more gravel adventures.
This event will be moderated by our wonder intern, Kira.
This webinar is brought to you by Dirty Freehub which is an online guide for 5-Star gravel bike routes. Our goal at Dirty Freehub is to build a community of gravel cyclists that care about where they ride. We want you to connect to the culture, history, and lands; and connect to the people and places that your ride. Our ultimate hope is that you will become involved (as an advocate, volunteer, or donor) with organizations that protect and preserve recreational lands.
Dirty Freehub is a nonprofit 501c3 organization.
---
Zoom Details
Topic: Death Valley by Gravel Bike!
Time: Dec 15, 2021 06:00 PM Pacific Time (US and Canada)
This webinar has already occurred. Unfortunately, a recording was not made due to a technical error on our part. However, we would be happy to talk with you about Death Valley. Please drop us an email at info@DirtyFreehub.org and we can arrange a time to talk by phone. Our apologies!
Kevin English / Director of Routes & Technologies