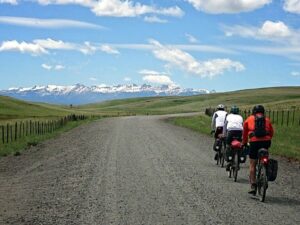 Let's dial in with route designer, Ben Groeneveld, with this drill-down webinar covering his latest adventure, the Wallowas Bikepacking Tour. We will kick it off with why this is his favorite place to ride in northeast Oregon and drill- down into the nitty-gritty details with his insider view.
This is one fun bike backing route: The snow-capped Wallowa mountains as the backdrop. The historic towns of Halfway, Cove, Wallowa, and Imnaha. The amazing Hells Canyon overlook and the Zumwalt Prairie. Quiet roads. Plus toss in there's a good chance you'll end up in the middle of a cattle drive.
At the end of their presentation, there will be an open Q&A and an opportunity to suggest your favorite route. One thing is for sure, we are headed back to this area for more gravel adventures.
This event will be moderated by Linda English, the Executive Director of Dirty Freehub.
This webinar is brought to you by Dirty Freehub which is an online guide for 5-Star gravel bike routes. Our goal at Dirty Freehub is to build a community of gravel cyclists that care about where they ride. We want you to connect to the culture, history, and lands; and connect to the people and places that your ride. Our ultimate hope is that you will become involved (as an advocate, volunteer, or donor) with organizations that protect and preserve recreational lands.
Dirty Freehub is a nonprofit 501c3 organization.
---
Zoom Replay
This event took place on Jan 25, 2022, 7:00 PM Pacific Time (US and Canada)
Replay Link: click to start replay