The Skyline Forest: What You Can Do To Have an Impact
We love the Deschutes Land Trust; they are all about conserving land for wildlife, scenic views and local communities. That includes some of the beautiful places that you ride. One of the places that is on their radar is the Skyline Forest, one of our favorite places to ride gravel out of Bend, Oregon.
So, let's catch up with Brad Chalfant, the Founding Director of Deschutes Land Trust who also has a rich connection to cycling in Central Oregon. He was one of the founders of COTA (Central Oregon Trail Alliance) and is an avid cyclist (including gravel!) The Q&A will be facilitated by Kevin English, Co-Founder of Dirty Freehub and then there will be an open Q&A for all.
Now before you attend this webinar, we are hoping you take a spin through Skyline Forest. Specifically we hope that you would ride one of the following routes before the event:
Captain O from Dirty Freehub will interview Brad and then turn the questions over to our followers. This online event is hosted by Dirty Freehub, an online guide to great gravel bike routes.
This event is hosted by Dirty Freehub. At Dirty Freehub we document, review and publish great gravel and mixed gravel bike routes. Our goal is that through good stewardship of public lands, collaboration, and sharing of routes, we can have a positive social, environmental, and economic impact in the communities we ride. For more information: www.dirtyfreehub.org
Deschutes Land Trust is all about conserving land for wildlife, scenic views, and local communities. For more information: deschuteslandtrust.org
---
Zoom Meeting Details
Topic: 20 Minutes with Brad Chalfant from Deschutes Land Trust
Time: Tuesday, October 27th, 2020 @ 07:00 PM Pacific Time (US and Canada)
---
What We Learned
The Skyline Forest (or sometimes referred to as the Bull Springs Tree Farm) is an ~33,000 acre of private property that is commonly mistaken as public property. It lies to the northwest of Bend and is bounded by National Forest and smaller tracts of private property. It is roughly bounded by the Brooks Scanlon Haul road on the east, Skyliners Road on the south and Three Creeks road on the north. The western boundary is of Skyline Forest is National Forest.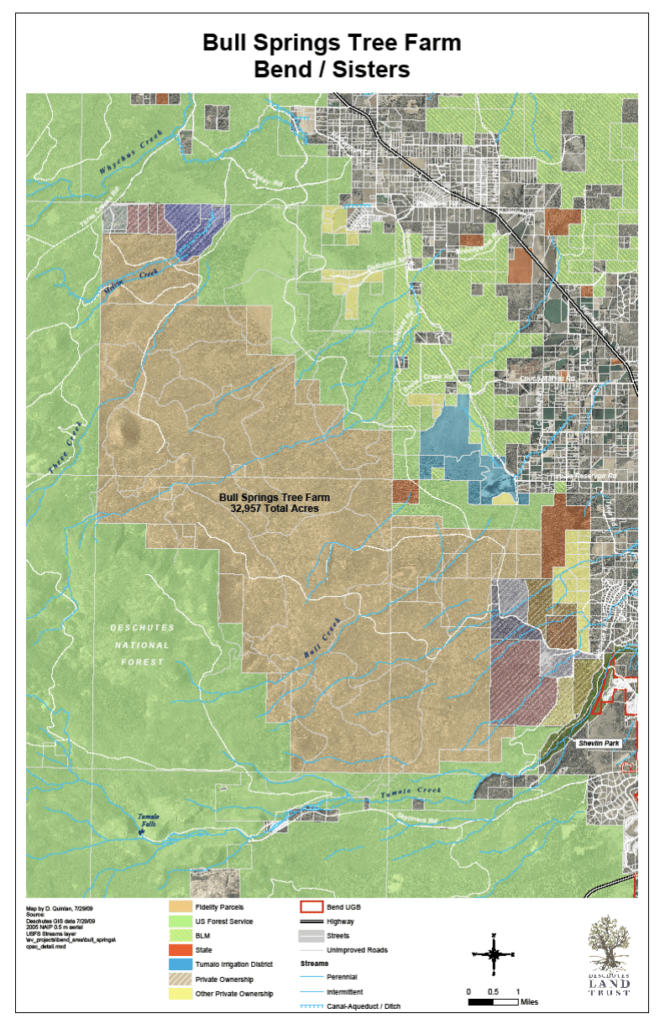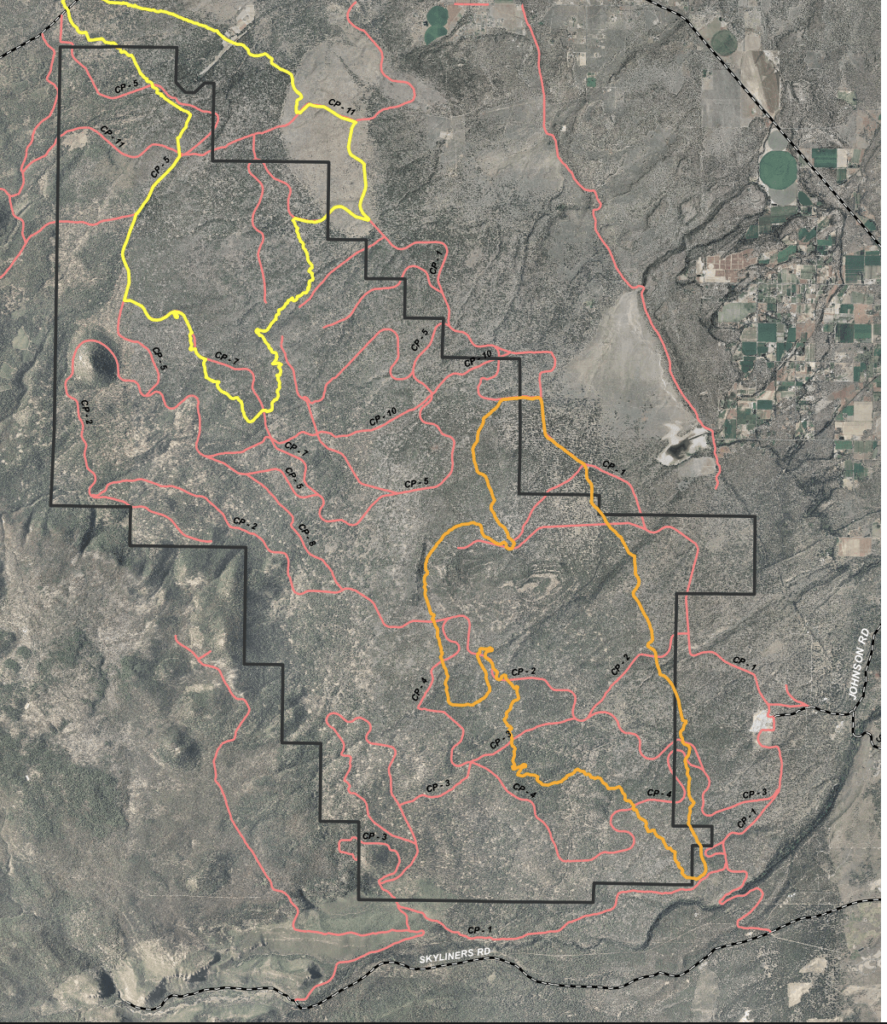 Skyline Forest is an important piece of property in that it provides access to National Forest lands, is a prime recreation area for cyclists, hikers, and others and it a winter migration area for deer and elk.
Currently Skyline Forest is privately owned and managed via the Shanda Asset Management group. Shanda has continued to allow access to the lands for recreational use. However, they have recently posted the forest as "closed to motor vehicles."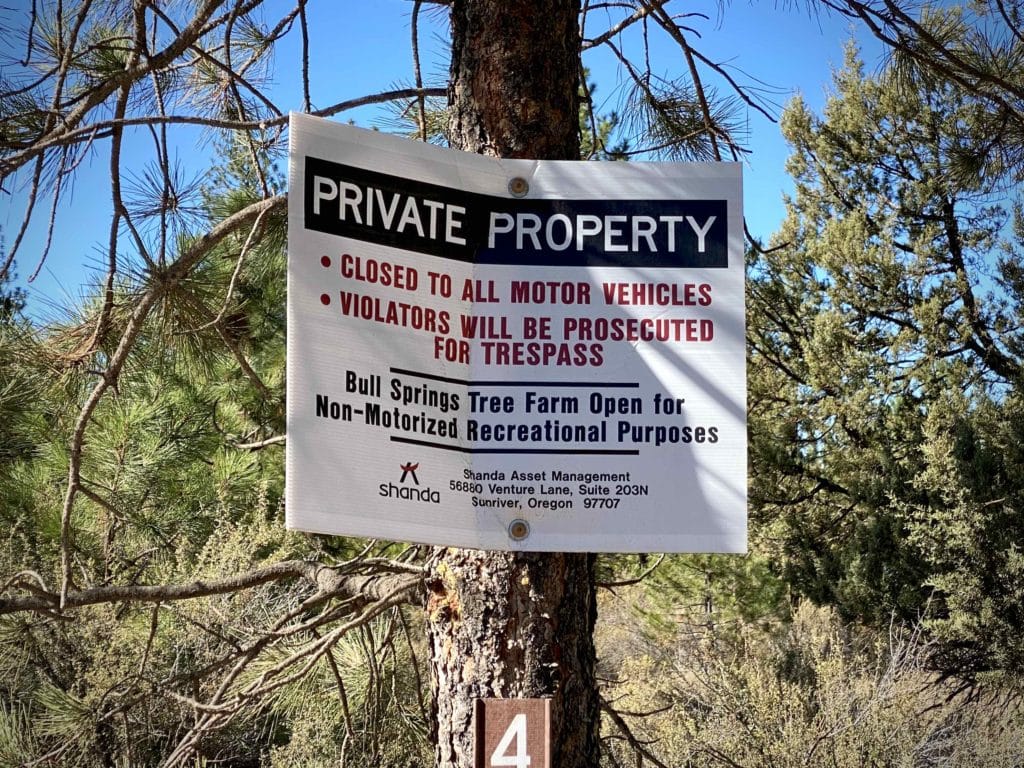 The Skyline Forest is also an important winter range migration area and closed to recreational usage from December 1 to March 31.
As gravel cyclists (and recreationalists) we should have a very strong interest in maintaining the forest for public access. The following routes posted on Dirty Freehub access large sections of Skyline Forest. They include:
Here is what we can do:
Be cognizant that Skyline Forest is private land and know the general boundaries of the forest.
Advocate for preservation and proper use of the forest in alignment with the current property owners desires. Advocacy can include talking with our friends about the history, ownership, usage, and importance (wildlife migration, recreation, land preservation) of the forest.
Be a second set of eyes and ears for the Forest Manager of Skyline Forest. That is, report unusual or hazardous activities to the local authorities.
Stay out of the forest during the winter range closure of December 1 to March 31.
Keep up to date with latest information regarding the forest. One way to do this is to follow the Deschutes Land Trust on Facebook and Instagram and subscribe to their newsletter.