The Queen of Gravel: Get to know Alison Tetrick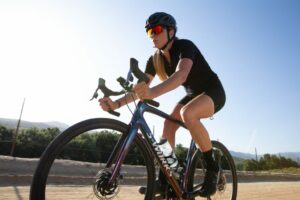 Alison Tetrick is an accomplished athlete, cyclist, and professional who is a pivotal influence on the gravel and bike community. Growing up in California on a cattle ranch, she found her drive and passion, gaining a degree in Biochemistry and becoming a scientific author.
Her drive did not stop there. She found her passion in cycling, getting into triathlon and qualifying for the world championships. She continued her cycling career in racing, placing 3rd at the UCI World Championships, winning the DK200 (formerly the Dirty Kanza, now Unbound Gravel), and setting the course record. She is a 3x World Gravel Champion, one of the best women cyclists in the world. She is a massive influence in the bike community setting an example through her social media presence, personal brand, academic achievement, and of course, her athletic accomplishments.
In this interview, we will get to hear personally from Alison Tetrick, nicknamed the "Queen of Gravel," about her incredible achievements, and have the opportunity to gain a small look into her life as an influential female role model and athlete.
The Q&A will be facilitated by Hailey Davis, an intern with Dirty Freehub and a marketing major at Oregon State University. There will also be time for audience Q&A.
This event is hosted by Dirty Freehub. At Dirty Freehub, we document, review, and publish great gravel and mixed gravel bike routes. Our goal is that through good stewardship of public lands, collaboration, and sharing of routes, we can have a positive social, environmental, and economic impact in the communities where we ride. For more information: www.dirtyfreehub.org
---
Zoom Meeting Details
Topic: Alison Tetrick
Time: Dec 9, 2020 07:00 PM Pacific Time (US and Canada)
This webinar has ended and no longer available for viewing.