Skyline Forest: What Has Changed in the Last Year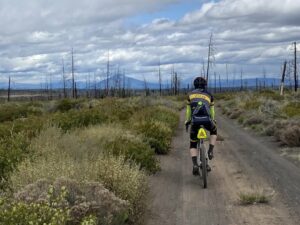 Skyline Forest includes some of our favorite gravel bike routes in Bend including Oktoberfest, Railbed Spurs, Two Bulls, and Quick and Dirty. Join us for this Zoom webinar where we catch up with Rika Ayotte, the new Executive Director for the Deschutes Land Trust, on exactly what's happening with Skyline Forest.
We will cover:
Where is Skyline Forest?
Who currently owns this property?
What is Deschutes Land Trust's role in protecting it?
What should we as a community be doing to protect it? (Important!)
What's changed in the last year?
What's up with all the signs that say no trespassing?
And what are the possible outcomes for this area?
We will also take a few minutes to catch you up on what's happening with Dirty Freehub.
The interview will be facilitated by Kevin English, Co-Founder of Dirty Freehub and then there will be an open Q&A for all.
Deschutes Land Trust is all about conserving land for wildlife, scenic views, and local communities. For more information: deschuteslandtrust.org
This webinar is brought to you by Dirty Freehub which is an online guide for 5-Star gravel bike routes. Dirty Freehub is a nonprofit organization with the mission to connect gravel cyclists to where they ride through stories about culture, history, people, places, and lands. Our hope is that you will become involved with organizations that protect and preserve recreational lands as an advocate, volunteer, or donor.
---
Zoom Meeting Recap
Topic: Skyline Forest Update 2021
Time: Nov 2, 2021, 07:00 PM Pacific Time (US and Canada) / This event has occurred in the past.
Click to Replay the Meeting