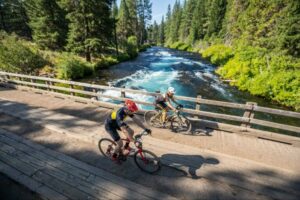 Meet with our two founders, Gravel Girl and Captain O, in this highly interactive webinar to find out about their top Dirty Freehub gravel routes in Central Oregon. (Which is damn hard to select.)
We have also invited a special guest, Serena Bishop Gordon, our hometown badass gravel cyclist to toss in her perspective. She will also talk about the Gravel Field Adventure Guide that is coming out in April.
This webinar is perfect for visitors wanting to ride the best of what Bend and Central Oregon have to offer for gravel cycling. Or for you locals, dial in to see if you agree with us on the best routes. Bonus! We will preview a new route (The Bishop) that you don't even know about. Now, how cool is that!
At the end of their presentation, there will be an open Q&A and an opportunity to suggest your favorite route. One thing is for sure, we are headed back to this area for more gravel adventures.
This webinar is brought to you by Dirty Freehub which is an online guide for 5-Star gravel bike routes. Our goal at Dirty Freehub is to build a community of gravel cyclists that care about where they ride. We want you to connect to the culture, history, and lands; and connect to the people and places that your ride. Our ultimate hope is that you will become involved (as an advocate, volunteer, or donor) with organizations that protect and preserve recreational lands. Dirty Freehub is a nonprofit 501c3 organization.
This webinar is sponsored by Visit Bend.
---
Zoom Details
Time: Jan 31, 2022 06:00 PM Pacific Time (US and Canada)
Meeting Recording: Zoom recording link
This event has already occurred, above is the link to the recorded session.